The Greek Philosophical Review addresses itself to all Greeks, whether they live in Greece or belong to the Greek Diaspora. It does not wish to promote one particular philosophy or to project a specific philosophical tendency. It embraces all philosophical currents and movements. Faithful to the principles of intellectual pluralism laid down in the Society's constitution, its purpose is to unify the Greek philosophical forces in Greece and abroad. Its aspiration is to provide a forum for these forces.
The language of the Journal is exclusively Modern Greek. All articles will be originals. Foreign contributions will be translated by experts. Authors are requested to avoid reliance on specialized symbolic languages when possible. The authors are solely responsible for the linguistic form and the content of their work. The editors reserve the right to introduce minor modifications in the text in order to bring it in line with the overall format of the journal (e.g. the uniformity of bibliographical entries). All manuscripts submitted to the editors should be typed double-spaced on one side of plain paper with wide margins. Authors should keep a copy to check against the printer's proof. The first page of the typescript should contain only author's name, address etc. This will facilitate submission to references when appropriate. An electronic version of the accepted paper should be sent to the Secretariat of the Journal. Pages should be consecutively numbered, including pages of footnotes and references. The use of italics is to be indicated by single underlying. In general references should be as follows:
I.N. Theodorakopoulos, Introduction to Philosophy, vol. IV, Athens, Estia, 1975, 449.
R.G. Mulgan, Aristotle's Political Theory, Oxford, Clarendon Press 1977, 58-59.
K. Tsatsos, «Philosophy and Politics», Greek Philosophical Society, Philosophy and Politics, Athens, Kardamitsa 1982, 13-22.
Sherry L. Digby, «A Comparative Study of Vedic and Platonic Education", Philosophia 12 (1982), 239.
© The copyright of printed articles and all other contributions belongs to The Greek Philosophical Review which reserves the right to reprint or reissue in any form any contribution. Authors may republish their work with the Society's permission.
* Books or other material submitted to the Journal for review or mention should be sent in duplicate. All received items of a philosophical nature will be mentioned in the Journal; in no case will such material be returned.
* Subscribers to the Journal have the right to follow without any obligation the Society's activities (Addresses, Lectures, Greek and International Conferences).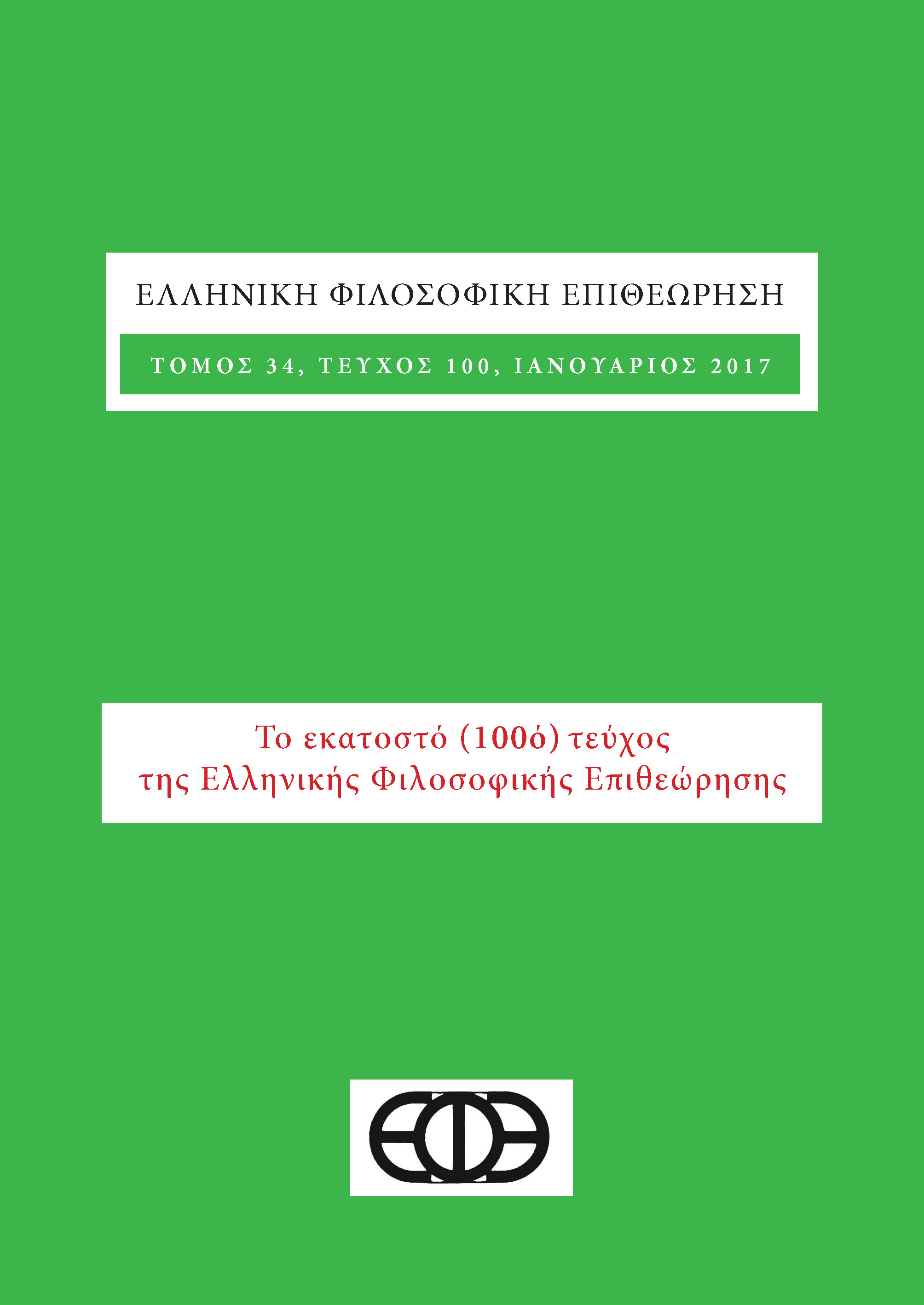 Annual subscription (3 issues):
Individuals: €30 (GREECE)
ABROAD: € 40
Libraries and Institutions: €50